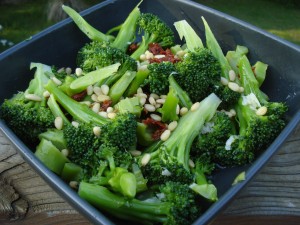 Yum Yum! If it has sun dried tomatoes, I'm in! LOVE them! This is easy easy to make (always a good thing) and it makes a great side dish to any meal.
Broccoli with Sun Dried Tomates and Pine Nuts
1 head of broccoli, cut and stems reserved
3 Tbsp balsamic vinegar
1 clove of garlic, minced
3 Tbsp olive oil
salt and pepper
2 Tbsp sun dried tomatoes 🙂
1 Tbsp pine nuts
Chop broccoli and set aside. Bring a pot of water to a boil and add a little salt. Meanwhile mix bv, garlic, olive oil and s&p in a large bowl. Add broccoli stems to boiling water and book for 2 minutes. Add broccoli florets to water and cook an additional 3 minutes or until bright green. Drain and rinse broccoli, add to dressing mixture. Add sliced sun dried tomatoes and pine nuts on top. Sprinkle with salt and pepper if desired. Yum!!